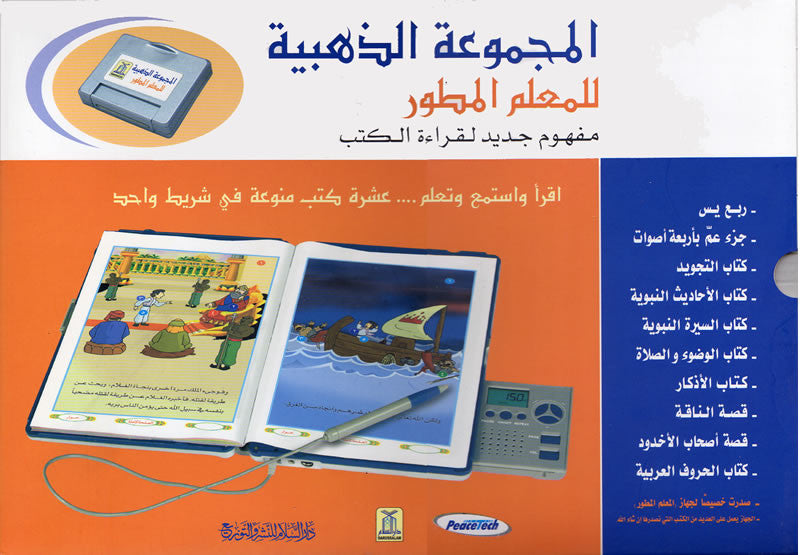 This is a complete set of ten books and one cartridge to be used with Al Maulim- Teacher advanced Unit. It is used by placing one book with the cartridge to listen to with Al-Maulim. It is an interactive learning pack for Mulims of any age, expecially children. It covers different Islamic topics such as Hadith, QUran, Tajweed, Tauheed, Salat and Saum etc.
This package contains 10 full color Arabic booklets and 1 cartridge to be used with the Al-Mualim - Teacher Advanced unit. This set contains the full audio for all the books for an interactive experience. These beautiful books are great for children and adults. They cover a wide range of interesting topics including Quran/Tafseer, Tajweed, Hadith study, supplications, how to pray, stories of Prophets and even learning the Arabic alphabets. Exact list of books can be found on the back cover (link found above).
Listen to the books with the Teacher Advanced version. Just plug the cartridge and place one of the book on to the learn pad (sold separately), set the page # on the unit according to the page on the book, and then point to the line/word/picture you want to hear and it will read it out loud. You can see sample pages and also listen along with the sample audio (links found above & below).
Note: This package does not contain the unit which can be used to listen to these booklets. You can purchase the Teacher Advanced unit (item #E04) from the 'Related Item' links below. You can, however, read and benefit from these booklets even without unit.
Other Sources: