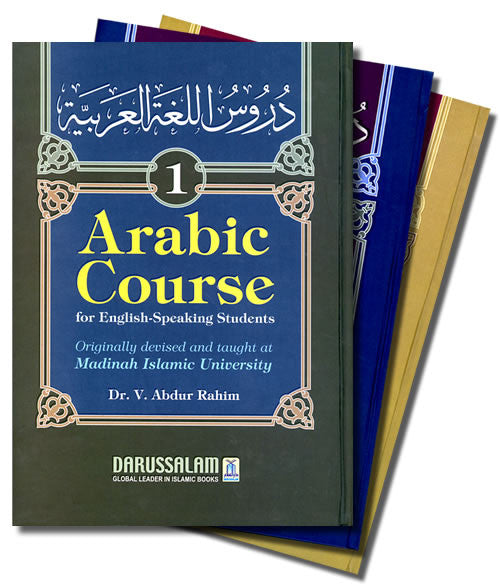 The ARABIC COURSE for English-Speaking Students is a lucid and well-admired course to preach the Quranic and Traditional Arabic, which was initially developed and taught at the famous Madinah Islamic University catering for the non-Arabic speaking students across the globe. Over the years, this course has made it possible for the students to be proficient in their use of the Arabic language and participate and benefit from erudite quests such as Quranic exegesis, hadith, fiqh, seerah, history, and classical and modern Arabic literature.
It is to the point (consists of only 3 books) but all-embracing in their coverage.
It combines modern Arabic vocabulary with Islamic terminology used in the Qur'an and Sunnah.
It aids to get a clear understanding of hundreds of Quranic verses, ahadith, Arabic stories and poetry.
This 3 volume edition has been revised by Dar-us-Salam and produced in the best quality possible and color pages. Other than just having full color images, there is color variation used in the text to help distinguish and highlight important details for emphasis. All the 3 volumes now consist of the English lessons, which were earlier consisted only in the first version. The Arabic lessons are on the right side whereas the left side starts with the English ones.
Along with this, Dar-us-Salam has also introduced a new device called The Language Master. This device is useful in learning the Arabic language. The details of this product can be obtained by visiting the product page from the related items below.
About the Author
Dr. V. Abdur Rahim has procured his doctorate degree in the Arabic language from the Al-Azhar University and taught it for more than 4 decades. For quite a long period, he was the main lecturer of the Arabic language to foreign students at the Madinah Islamic University. He has combined the classical system with the modern methods of learning and applied this style in this course in a wonderful vibrant language. He has taken examples from Arabic and day-to-day use and also from the Quran and seerah.
Click here to see the inside of the books
These books are very well organized and printed on nice paper. Complete Arabic starts from the right side of the book and the English key is provided in the back of the book. It is a good companion to lectures that can be found online. It is well published and will last for years! 
Click here to see the sample pages