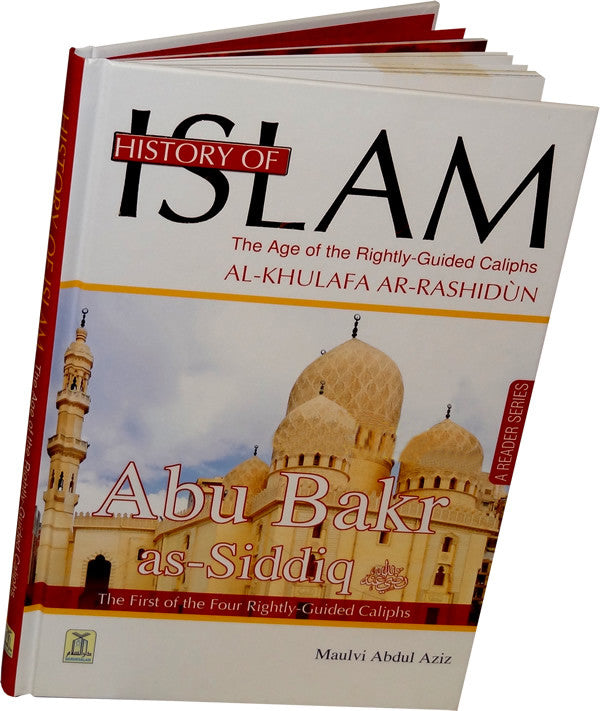 Brief Synopsis: 
This book is a part of Islamic history books series. It covers the life and times of the first Caliph of Islam who was the closest companion of the Prophet (SAW). It is essential for all Muslims to be aware of the history of Islam and draw guidance and inspiration from the lives of great Muslim personalities. This book is the first one in a series of four books about the rightly guided Caliphs of Islam. Some features of this book include:
Accurate historic details of the early days of Islam starting from the demise of Prophet Muhammad (SAW) and the Caliphate of Abu Bakr till the death of the first Caliph of Islam.

Complete biography of Abu Bakr As Siddiq, his birth, pedigree, Life before and after accepting Islam, services to Islam and its Prophet, Caliphate and reforms for Islamic society.

A detailed account of Islamic conquests and spread of Islamic territory during the Caliphate of Abu Bakr.

A separate chapter on the character, personality and physical traits of Caliph Abu Bakr.

References to the Quran and Sunnah.

Exercises and activities at the end of each chapter to test the knowledge gained
This is a complete book of history for the students of grade six. It covers details of the early days of Islam especially the Caliphate of Abu Bakr As Siddiq.



Description:
This is the first volume from this series, which deals with the life of Ab Bakr as-iddq, the first of the Four Rightly-Guided Caliphs. No other person in the History of Islam can be compared to him when it comes to truthfulness, insight into Islamic teachings and devotion to Allah and His Messenger (S). He was outstanding and unique in his commitment, sincerity, and whole-hearted support and assistance to the Prophet.
Our past, present, and future are interconnected and interdependent. Therefore, knowing and understanding our history is not optional: it is essential.
Darussalam presents the entire History of Islam to our youth in language that appeals to them, in a simple yet lucid manner. The first four volumes in this series explore Islamic history during the period of the first Four Rightly-Guided Caliphs. Later volumes would be devoted to the History of Islam, down through the ages to modern times, insha'Allah.
History of Islam - A Reader Series - Suitable for Grade Six (Age group 10+)

The Age of the Rightly Guided Caliphs - Al-Khulafa ar-Rashidun
Abu Bakr as-Siddique - The First of the Four Rightly Guided Caliphs


Table of Contents:


Preface

CHAPTER 1

The Death of the Messenger of Allah

Completion of the task

The Prophet Final Illness

Abu Bakr's Return

Umar Realizes the Messenger of Allah had Indeed Died

Men of Madinah Meet to Elect a Chief

ACTIVITY
CHAPTER : 2

The Caliphate of Abu Bakr as Siddiq

Abu Bakr's Inaugural Address

The Funeral Prayer & Burial of the Prophet

Abu Bakr the First of the Four Rightly-Guided Caliphs

Usmah Ibn Zayd's Army

ACTIVITY
CHAPTER :3

Abu Bakr as-Siddiq

His Name, Ancestry, Titles, family and His Life

1. As-Siddiq

2. Al-Atiq

3. As-Sahib

His Birth and Physical Description

His Family

Asma bint Abu Bakr

Aishah the Mother of the Believer

Umm Kulthum

Abu Bakr as-Siddiq's Life in Makkah

The Quraysh Loved Him

Abu Bakr's Acceptance of Islam

Abu Bakr Preaches the Message of Islam

Trial and Tribulations

Abu Bakr Spent his Wealth to Purchase

The Freedom of Muslim Slaves

Abu Bakr's Emigration [al-Hijrah]

With the Messenger of Allah to al-Madinah

ACTIVITY
CHAPTER : 4

Abu Bakr's Faith in Action

Abu Bakr: the First of the Four Rightly-Guided Caliphs

Progress of Islam does not stop with the death of anyone

Challenges and Problems Faced

By Abu Bakr as-Siddiq as a Caliph

Abu Baka War Against Apostates

False Prophets

Aswad al-Ansi

Saj'ah bint al-Harith ibn Suwaid

Musaylamah:the Liar

Gathering the Glorious Quran in a Single Book

ACTIVITY
CHAPTER:5

The Spread of Islam

The Conquest of Iraq

The Roman Empire and the Iranian Empire

The Conquest of Iraq

The Conquests in ash-Sham

Abu Bakr Appoints Umer Ibn al-Khattab

As His Successor and Abu Bakr's Death

Abu Bakr's Time to Depart Draws Near

Abu Bakr's Character: Extremely Simple Life
 Other Sources: