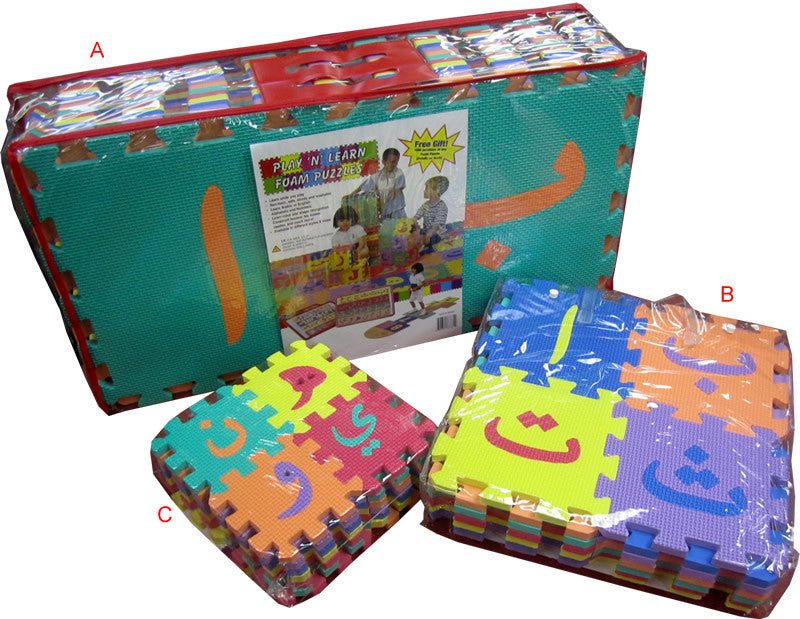 These Arabic Alphabet foam mats pack is available in three different sizes for the preschoolers: Large, medium and small. Children can arrange these and play to learn Arabic Alphabets. The mats are 3D interlockable colourful foam mats. They can be washed easily. Attractive colours make children more interested in using them.
Grab your kids' attention with these colorful alphabet mats. Interlocking pieces connect side by side or interlock in 3-D format. They are made of a 1/3 inch, foam-like materials. Children spell words or use their imagination to create houses, toy boxes, castles, etc. A must for pre-school and kindergarten classrooms. Fun to play with, soft and washable. Our kids line them up like a big train and then walk on them, reciting the letters.
Puzzle mats are available in 3 different sizes:
A) Large - Each puzzle: 12 x 12 x 0.5". Package size: 25 x 13 x 5.7".
B) Medium - Each puzzle: 6 x 6 x 0.5". Package size: 13 x 13 x 3".
C) Small - Each puzzle: 4 x 4 x 0.4". Package size: 8 x 8 x 2.7".
Large & medium size puzzles come in attractive plastic tote bag for easy carry & storage. Small size puzzles come in sealed plastic wrap.