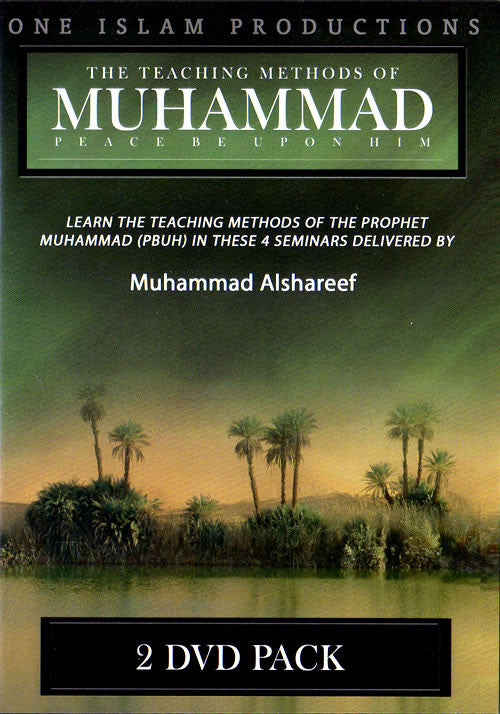 This set of DVDs has some inspirational information on the methods used by Prophet Muhammad to teach his followers. The Prophet used many techniques to teach others and these techniques can still be very useful for Mankind in spreading the message of Allah. It is very important for all of us to learn from our Prophet and benefit from the methods he used to set an example for us. This DVD has extensive treasure for all Believers.
In this 2-day course Muhammad Al-Sharif begins with the importance of learning from Prophet Muhammad (peace be upon him) and then examines the techniques used in different situations. He then ends with the methods wh have been using and how they are failing. These are very informative & interesting seminars.
Titles in the 2 pack DVD, each DVD containing 2 seminars:
Seminar 1: The Importance Of Learning From The Best
Seminar 2: Teaching Techniques Of The Prophet - Part 1
Seminar 3: Teaching Techniques of the Prophet - Part 2
Seminar 4: The Way We Teach What Went Wrong?
The 2003 AUSTRALIAN DAWAH CONFERENCE is an annual event organised by the AHLUS SUNNAH WAL JAMAA'AH ASSOCIATION OF AUSTRALIA bringing various international and Australian speakers. The theme of the 2003 conference was "In the Messenger of Allah you have an example to follow".
Allah the Almighty endowed the Prophet Muhammad (pbuh) with an exalted standard of character and set his life as a complete guidance for mankind to follow. Allah the Almighty makes this clear in His final revelation to mankind the Qur'an: "Indeed in the Messenger of Allah (Muhammad) you have a good example to follow for him who hopes for (the Meeting with) Allah and the Last Day, and remembers Allah much." [Al-Ahzab, 33:21]
Other Sources:
Al-Mudhill (The Giver of Dishonor) - Allah's / Gods' Name
Al-Mugni (The Enricher, The Emancipator) - Allah's / Gods' Name
The Islamic Story of the People of the Garden