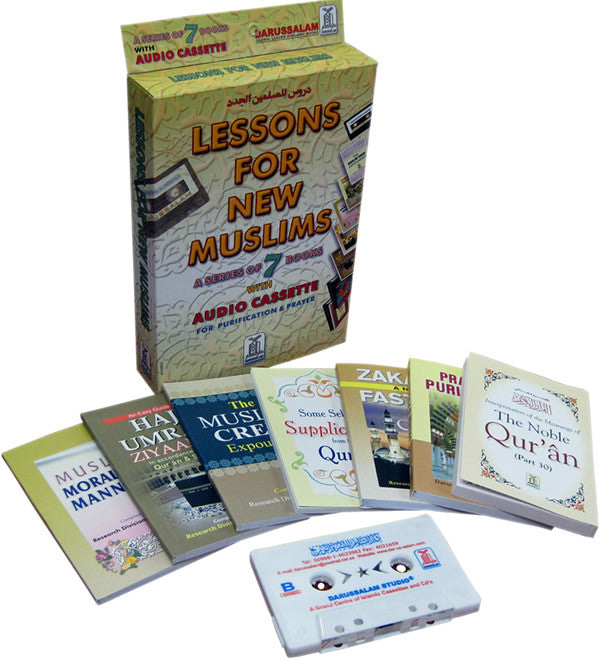 This a complete guidance package for people who need to know the essentials of the religion Islam as they have recently reverted to it. The package offers seven pocket size books, audio CD and cassettes. The contents conprise of the knowledge of Basic Pillars of Islam, rites and rituals for Prayer and fasting, Essentials for Hajj, Umrah and visiting Makkah and Madinah for Ziyarah, purification methods, selected Duaa's from the Quran and Surah from the Noble Quran. It is a great package to have for all Muslims.
A series of 7 pocket size books with Audio CD/Cassette for Purification and Prayer are enclosed in a beautiful box viewed above.
This enlightening set of 7 books for New-Muslims includes:
1. The Noble Qur'an (Part 30)
2. The Muslim Creed Expounded
3. Prayer and Purification
4. Basic Muslim Moral and Manners
5. Zakaah and Fasting
6. An Easy Guide to Hajj, Umrah, & Ziyaarah
7. Some Selected supplications form the Quran
Audio CD/Tape includes procedures on how to perform wudu' and Salah. The audio CD contains special bonus 22 surah recitations with verse by verse English translation from The Noble Quran. You can select the format from the product options when adding product to cart.
Other Sources: