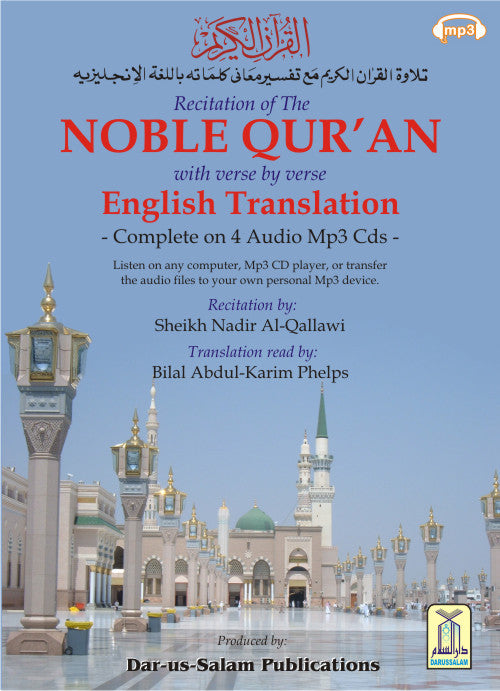 Listening to the Quranic recitation daily can draw us closer to Allah. This set of four MP3 CDs has the recitation of complete Quran along with its translation and explanation in English language. The recitation of the Quran is done by Dr Muhammad Taqi-ud-Din Al-Hilali. The English translation and meanings are told by Bilal Abdul-Karim Phelps from the USA. The files in these CDs are transferable which means you can save them on your own MP3 device to listen conveniently but copyright should be kept in mind.
For the first time Darussalam is presenting on 4 Mp3 CDs the recording of the Recitation of the Noble Qur'an and the translation of its meaning in English by Dr Muhammad Taqi-ud-Din Al-Hilali & Dr Muhsin Khan.
The beautiful recitation is done by Sheikh Nadir Al-Qallawi & translation is read by Bilal Abdul-Karim Phelps from the USA. The presentation has been supervised by Mr. Abdul-Malik Mujahid, CEO Darussalam.
You can listen to this set on any computer, Mp3 CD player, or transfer the audio files to your own personal Mp3 device. The bit rate for the Mp3 files is 112 kbps (high CD quality).
This album is also available on 42 audio CDs from the related items.
Copyright Notice: This presentation is protected by copyright laws & international copyright treaties, and all rights of it are reserved. Copying, transfer, distribution, modification or translation of this product, electronic or otherwise, is NOT permitted without Darussalam's written permission. Violation of copyright is a serious offense, punishable by monetary penalties and possible imprisonment.
Please fear Allah and help Muslim media like this to succeed by respecting copyrights.
Other Sources: